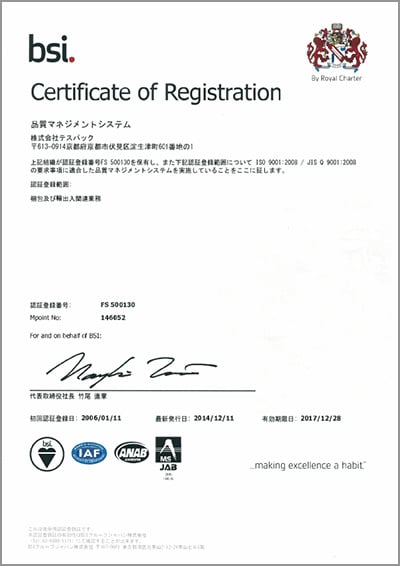 TESPAC CO., LTD. offers services to facilitate all stages of the international transportation of goods, including packing, transportation, warehousing and customs clearance service. We also develops transportation of artwork, packing and conveyance of heavy goods and super-precision machinery etc, what is more, we assist customers with manufacture and retail of packing materials etc.
The name of TESPAC stands for TAKAGI EXPORT SERVICES & PACKING. Our trade mark

is a heart shape viewed from different angle. This trademark expresses that we always pack the customer's precious package with sincerity, and transport them quickly. We strive to always fulfill our customers' requests by investigating all possibilities as our mission. We hope that our work will continue to create fresh and warm ties between the hearts of our customers and those of our staff.
Company summary
Company name


Tespac Co.,Ltd.


location


Head office

〒613-0914 601 Yodo Namazu-cho, Fushimi-ku, Kyoto 613-0914, Japan

TEL:075-631-4821

FAX:075-631-0333

→

Contact us from here【Map】

栗東営業所


Ritto office

〒520-3080 C/O NIDEC MACHINE TOOL CORPORATION 130 Rokujizou Ritto Shiga, 520-3017, Japan

【Map】

President


Teiji Takagi


Capital


10 million yen


Businesses


Packing(Precision machine,Heavy goods packaging,Art works)
Retails of various packing materials
Customs clearance agent(Creation of Commercial Invoice,Pacling List etc.)
Arrangement of Transportation(Air and Sea Flight)
Storage service for your Expot cargo.

Main facilities


15ton Crane
10ton Fork lift
Wood processing machines・Cardboard cutting machine

History
| | |
| --- | --- |
| October.20, 1987 | Founded |
| April,1988 | Newly Established Service of Transportation and Warehouse |
| July,1988 | Newly established Service of Customs Clearance |
| January,2006 | Certified on ISO9001-2000 quality management system |
| March,2006 | Increased new factory |
| June,2014 | Newly opened warehouse(Kumiyama,Kyoto) |
| September,2015 | Newly opened warehouse(Kamitoba,Kyoto) |